キルト作家、原 浩美が主宰するパッチワーク教室と専門店です。

〒080-0815 北海道帯広市東15条南3丁目1番地12  Tel&fax:0155-22-1067 営業日:毎週金曜、土曜日 10am~5pm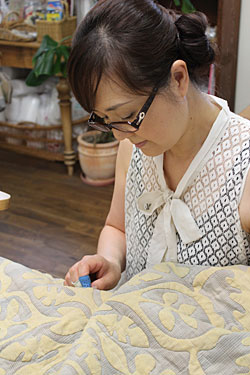 1983年より独学でパッチワークを始め、その後、帯広市内の教室へ5年間通いました。
1997年より自宅内で教室を始め、現在は市内各所で開講しています。
2000年より株式会社主婦と生活社「パッチワークレッスン帳」に作品が掲載され これを機に数多くの作品を発表しました。
2007年~2011年まで「はじめてさんのパッチワークレッスン」を連載しました。
2005年には著者本「かわいいパッチワークキルト」を出版し 2008年に「STUDIO QUILT」をオープンしました。

Founded in 2008 by (Mrs.) Hiromi Hara, Studio Quilt specializes in providing tuition in the art of creating patchwork quilts, as well as providing the kits necessary to craft beautiful quilts.
<Store Address>
080-0815
Hokkaido, Obihiro – shi, Higashi 15 Jo, Minami 3 Cho-me, 1-12
Japan
TEL/FAX: 0155-22-1067
Opening Hours: 10:00 – 15:00. Fridays and Saturdays only

1983: Began studying patchwork independently and then attended patchwork classes for 5 years.
1997: Started giving patchwork classes from home and expanded to giving classes throughout Obihiro city.
2000: Featured in "Shufu-to-Seikatsusha" magazine (the leading national publisher targeting housewives), which acted as a boon to introducing numerous quilt designs to the general audience.
2007 ~ 2011: Wrote in the "Patchwork for Beginners" column in "Shufu-to-Seikatsusha" magazine.
2005: Authored the book "Cute Patchwork Quilts", published in the same year.
2008: Opened "Studio Quilt".